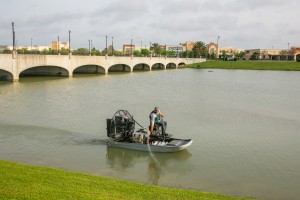 Protect your pond from nuisance aquatic vegetation and algae blooms.
Ponds can bring beauty to your landscape, however, in the warm Florida climate they are a delicate aquatic environment and can quickly become taken over by aquatic weeds or
algae
leading to reduced oxygen levels and even fish kills.
It's time to regain control of your Florida pond.
If you've noticed an increase in algae growth or have a specific weed that is growing rapidly, then it's essential to regain the natural balance by removing the problematic aquatic species. Our licensed Applicators are readily available to work with you to manage and maintain your waterway problem.
With more than 30 years experience in the industry, we have the in-depth knowledge of aquatic weed management needed to provide you with immediate results. We use the latest technology available on the market today and apply only EPA registered chemicals. Our innovative chemical mixes are the reason we're Florida's leader in vegetation management. It's simple: AAM programs work.
What can you expect from AAM?
Immediate Results: Innovative spray management techniques with outstanding success rates.
Custom Maintenance Programs: Bi-weekly, monthly, bi-monthly or quarterly aquatic weed maintenance programs.
Phosphorus Reduction Services: Call on the experts at AAM to eliminate algae blooms.
Invasive Species Experts: Our treatment plans and chemical mixes will eradicate the most invasive aquatic weeds.
Rapid Service: We guarantee to be on-site within 24 hrs (weather permitting).
No Job Too Big: AAM is equipped with the tools, technology and manpower to work large-scale aquatic weed management projects.
Eco-Friendly: Controlling weeds while promoting a balanced habitat is our main priority. We are environmentally conscious and use only EPA registered chemicals.
Contact us today. Response within 24 hrs. Guaranteed*.
It's time you experience The AAM Service Advantage.  Contact us at (863) 533-8882 or click below to get started with professional experts in pond management:
Pictures instead of words…
ATV used for limited access
Chronic algae blooming pond controlled via monthly maintenance
Pond maintained monthly