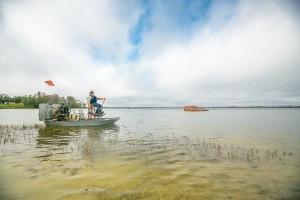 Problem with an invasive aquatic species or severe algae bloom?
You've come to the right place. AAM offers innovative lake and pond management solutions to eliminate your aquatic weed problems.
It's time to regain control of your lake.
Whether you need to service one acre or thousands of acres, we're fully equipped to manage and control the most severe aquatic weed outbreaks. Using cutting-edge spray management techniques and phosphorus-level reduction programs, we'll diagnose, manage and provide on-going maintenance all while providing you with exceptional customer service.
When you choose AAM, you can rest assured you are selecting aquatic weed experts. Our Applicators are fully licensed and certified, using the latest technology and chemical mixes that achieve immediate results. We use only EPA registered chemicals and service the entire state of Florida to manage aquatic vegetation while protecting our fragile ecosystem.
What can you expect from AAM?
Immediate Results: Innovative spray management techniques with outstanding success rates.
Custom Maintenance Programs: Bi-weekly, monthly, bi-monthly or quarterly aquatic weed maintenance programs.
Phosphorus Reduction Service: Call on the experts at AAM to eliminate algae blooms.
Invasive Species Expert: Our treatment plans and chemical mixes will eradicate the most invasive aquatic weeds.
Rapid Service: We guarantee to be on-site within 24 hrs (weather permitting).
No Job Too Big: AAM is equipped with the tools, technology and manpower to work large-scale aquatic weed management projects.
Eco-Friendly: Controlling weeds while promoting a balanced habitat is our main priority. We are environmentally conscious and use only EPA registered chemicals.
Contact us today. On-site within 24 hrs. Guaranteed*.
It's time you experience The AAM Service Advantage.  Contact us at (863) 533-8882 or click below to get started with professional experts in agricultural waterway management:
Pictures instead of words…
Shoreline brush and grass control
Subsurface application for hydrilla control
Subsurface application utilizing skiff
Granular herbicide application for hydrilla control
Preparation for hydrilla treatment