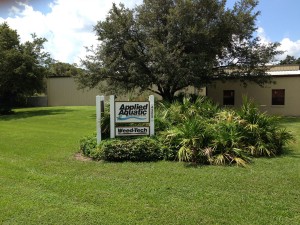 We are a closely-knit team, one BIG family with a long history of proven solutions and pride in our work.
You may have a big problem. But we're BIGGER and STRONGER. Get to know what makes Applied Aquatic Management the biggest little company you'll be glad to do business with.
Florida's #1 Vegetation Management Provider
We attribute our success to our unwavering customer service and pioneering treatment plans. Our in-depth expertise of aquatic species is why our herbicide and algaecide mixes have such high success rates. Whether you're a homeowner, HOA or golf course superintendent with a severe algae bloom in your pond, a governmental agency facing an invasive species outbreak or a developer needing management of their wetland mitigation site, AAM will exceed your expectations and help you regain control of your waterway. We'll work with you to develop a fully customized management and maintenance program to eliminate the problem while working within your budget.
What to expect from AAM:
Immediate Results: Innovative spray management techniques with outstanding success rates.
Custom Maintenance Programs: Bi-weekly, monthly, bi-monthly or quarterly aquatic weed maintenance programs.
Invasive Species Experts: Our treatment plans and chemical mixes will eradicate the most invasive aquatic weeds.
Rapid Service: We guarantee to be on-site within 24 hrs (weather permitting).
No Job Too Big: AAM is equipped with the tools, technology and manpower to work large-scale aquatic weed management projects.
Eco-Friendly: Controlling weeds while promoting a balanced habitat is our main priority. We are environmentally conscious and use only EPA registered chemicals. Contact us today. On-site within 24 hrs. Guaranteed*.
It's time to regain control of your aquatic habitat.
For over thirty years, Applied Aquatic Management has been providing innovative and effective water management services, selective vegetation control, wetland management and exotic weed control throughout the state of Florida. Our licensed Professional Applicator's in-depth knowledge of aquatic weeds combined with advanced equipment and unrivaled spray techniques allow us to successfully manage all types of waterway, right-of-way, wetland and upland systems. When you choose AAM, you're choosing aquatic weed experts and taking the first step to regain control of your aquatic habitat.