AAM's commitment to safety standards are deeply rooted in every aspect of the company. In fact, if you were to ask any employee what the company motto is, they would always have the same answer: "The label is the law." So when OSHA recently announced they would be aligning their safety data sheets to GHS, the current global system, we implemented the changes, and initiated training almost immediately. AAM's commitment to safety is imperative to our sustainability. Not only does it keep our employees safe, but it's a large component of our overall company culture.
OSHA's changes were much needed, as chemicals are sold globally, yet the safety data sheets lacked consistency. Page 4 on one Safety Data Sheet (SDS) might have been regarding chemical components, while another SDS would have had warning labels on page 4. OSHA has now mandated chemical manufacturers to follow the GHS SDS layout. Each SDS has a specific outline with 16 components, making it easier for those using the chemicals to find relevant product information.
We have copies of the Safety Data Sheets in every vehicle. At any time, our employees can access pertinent chemical information that will keep them safe. Safety Data Sheets also ensure that our licensed applicators are using the right chemicals at the right times, keeping the environment and wildlife safe.
In addition to the new SDS outline, OSHA is mandating chemical manufacturers to use GHS's warning label pictogram. Once again, their motive is to align U.S. manufacturers with current global best practices. Regardless of what language you speak, chemical users worldwide will be able to fully understand the warning labels and potential dangers by using GHS's nine pictogram chart.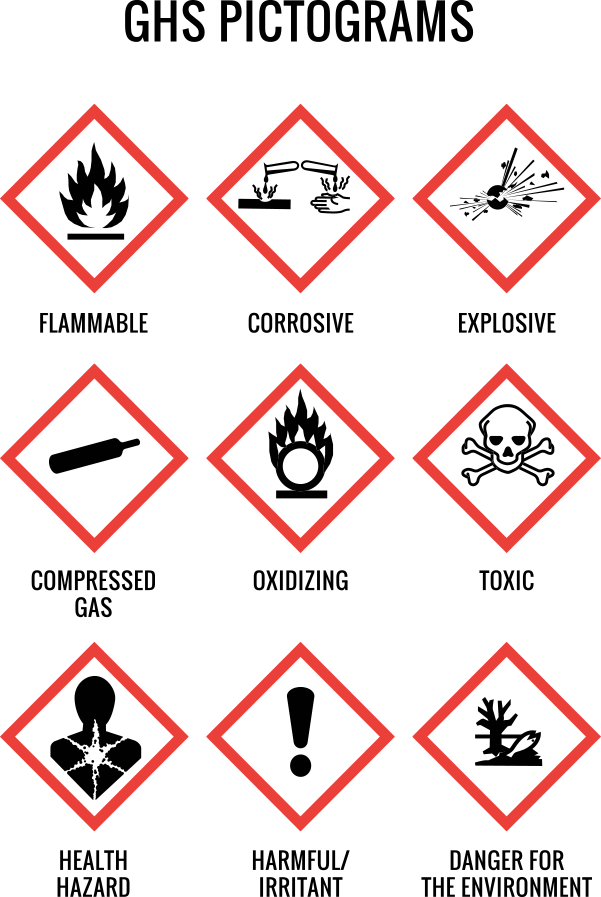 AAM's commitment to maintaining a high level of safety standards is evident in our daily business practices. We take OSHA's safety requirements very seriously. Ongoing training is a regular part of each employee's monthly responsibilities. Not only is our goal to keep our employees safe, but we have the same level of passion for the environment. When you are hiring AAM you know that you're hiring a company who truly cares about the environment and surrounding ecosystem.