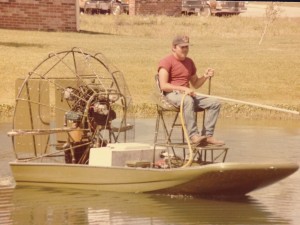 A Thirty Year History of Success & Innovation
For over thirty years, Applied Aquatic Management, Inc., (AAM) has provided innovative and effective waterway management services, selective vegetation control, wetland & mitigation maintenance and exotic weed control/eradication.
Since 1981
Servicing the entire state of Florida, our clients include individuals, developers, homeowners associations, golf courses, mobile home communities, utilities, local, state and federal government agencies and industry. Established by the Myers family, AAM has grown from a one man operation in 1981, to over 60 employees today. Our exemplary customer service combined with notable success rates have led AAM to become an industry leader in the vegetation management industry. AAM headquarters is located in Bartow, Florida and is a state certified minority business.
---
Our People Make Us The Company We Are
We take pride in our reliable, diligent, efficient personnel. All employees are educated and licensed in the application and handling of herbicides. Presently AAM employs sixty-seven licensed applicators in the aquatic, natural areas & right-of-way categories. Applicators are certified by the Florida Department of Agriculture and Consumer Services. All applicators receive continuing education annually to keep up with today's complex regulatory environment. We're proud to say that, over the years, our employees have received numerous industry awards and recognition for outstanding service and leadership.
---
A Well Equipped Fleet
AAM is equipped with a fleet of 45 airboats and 68+ transport/spray trucks. These airboats and spray trucks are furnished with modern spray systems designed specifically for aquatic herbicide applications. We also have a wide variety of boats available for use in small ponds and/or large lakes and multiple truck mounted systems for use in industrial settings and ditch herbiciding. Other available equipment includes a railroad spray car, a fleet of four- and six-wheeled and tracked ATV's and swamp buggies all equipped with state-of-the-art spray equipment designed to provide the most effective and cost-efficient management services for all types of terrain.
---
More Than 600 Clients & Growing
AAM currently provides annual management programs to over 600 clients throughout the state of Florida. As an industry leader, we've been contracted to conduct extensive exotic species control initiatives in natural areas for the State and Federal Government. Other customers include South Florida Water Management District, Department of Interior, St. Johns River Water Management District, Department of Environmental Protection and the U.S. Army Corps of Engineers. Areas managed include the numerous Save our Rivers Tracts, Water Conservation Areas, Everglades National Park, Big Cypress National Park, as well as various State parks. The management programs provided by AAM are second to none in the industry. A systematic treatment approach is utilized to eradicate existing nuisance exotic species without negatively impacting native flora and fauna. AAM has been highly commended on this type of service, and we continue to lead the industry in new and advanced treatment methods. AAM has controlled more acres of exotic species than any other private company in the State of Florida.