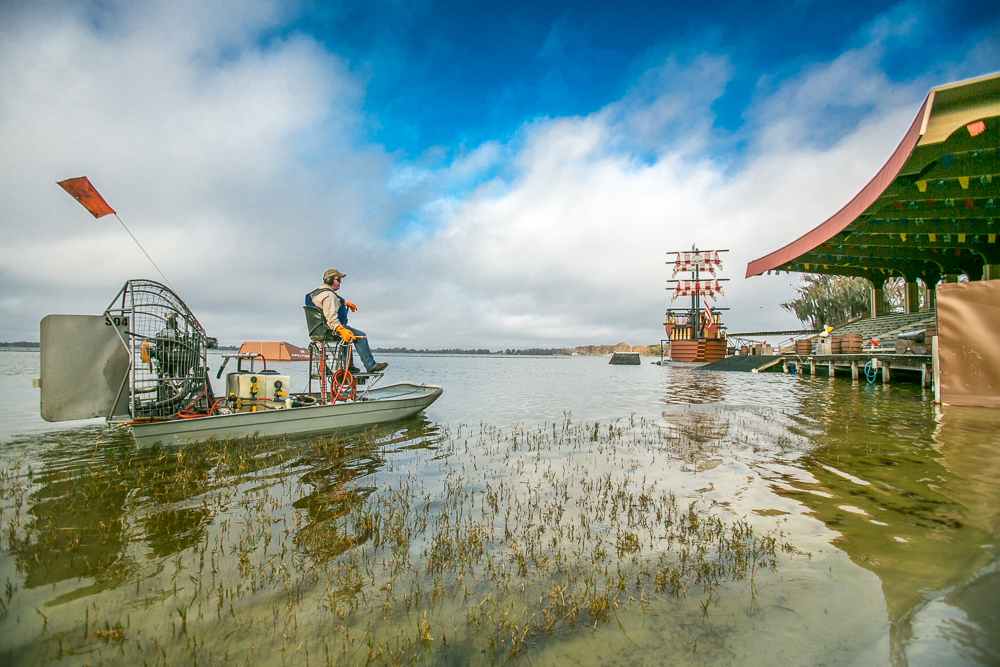 The Problem
When LEGOLAND, one of Central Florida's most popular attractions, purchased the old Cypress Gardens property in January 2010, it had been abandoned for a year. In addition to transforming the once beautiful gardens into a LEGO haven, the developers of LEGOLAND were also faced with gaining control over the aquatic weed infestation throughout much of the park.
We all know what our Florida yards look like after two weeks of not being mowed. Can you imagine one year? To tackle this problem, LEGOLAND called on the experts at Applied Aquatic Management to ensure the 13 acres of canals and lakefront would be in pristine condition for their October 2011 opening date.
When we conducted our initial walk-through of the property, it was truly an aquatic weed wonderland. With over a year of hot, rainy weather and a surplus of nutrients, the aquatic environment was in bad shape. From algae blooms to invasive species around every corner, we had our hands full. But if any company has the manpower, experience and equipment to handle this job, it's AAM.
The Solution
While many of AAM's jobs consist of maintaining aquatic areas on a regular basis, we also specialize in abandoned and natural environments. AAM's first treatment for LEGOLAND was back in 2010, where we sited much of the free flowing water was infested with floating plants such as duckweed, hydrilla and salvinia. Severe algae blooms in the lake had diminished the water oxygen levels while the shoreline exhibited heavy overgrowth of torpedograss, cattails, water ferns and water hyacinths. To tackle the problem, we developed a customized treatment plan to eradicate the invasive species in the canal system and to clear the two boat ramps and lakefront in preparation for LEGOLANDS's opening.
AAM's successful aquatic weed treatments are attributed to our extensive experience coupled with our sizable team. Since opening our doors in 1981, our family-run business has used only the highest quality EPA registered chemicals that have no adverse effect on aquatic life. We've developed custom chemical mixes that provide excellent results. We've been in the business long enough to know what works and what doesn't. We know these weeds like the back of our hand. The weeds have no chance.
The Outcome
After servicing LEGOLAND for one year, the results have been profound. LEGOLAND is a perfect job for customers to see just what we're capable of, and what our custom maintenance plans can do for your aquatic environment.
Brush and Grass control treatment in canal system on North end of property
Three treatments For Brush and Grasses = Success
Our small airboat worked perfectly in those hard to reach places in super shallow water
This canal was 100% infested with duckweed prior to treatment
The duckweed was no match for this highly trained technician
Second application on the shoreline grasses in the ski arena

AAM provides innovative and effective water management services, selective vegetation control, wetland management and exotic weed control throughout the state of Florida. Our licensed Professional Applicators' in-depth knowledge of aquatic weeds combined with advanced equipment and unrivaled spray techniques allow us to successfully manage all types of waterway, right-of-way, wetland and upland systems. When you choose AAM, you're choosing aquatic weed experts and taking the first step to regain control of your aquatic habitat.

We welcome you to learn more about AAM and to receive a free quote. Get started today.

Get your free evaluation & estimate